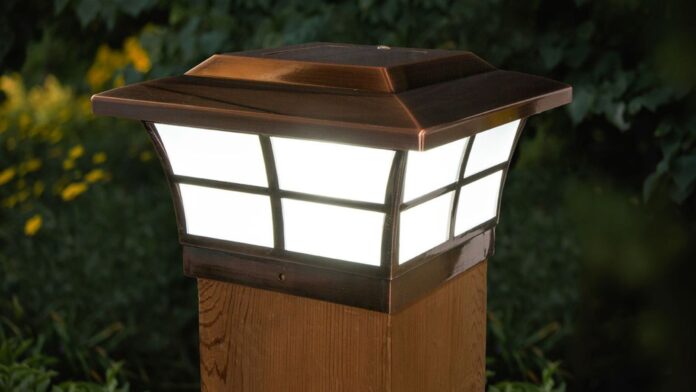 Are you looking for environment- friendly lighting solution for your posts, deck railing, or gardens? If yes, solar post cap lights are the best alternatives.
Solar post cap lights are solar-powered, decorative light fixtures with a flexible design to be mounted on the top of deck railings, garden features, and fencing. These light fixtures come with a battery that charges during the day and uses the stored energy to power the lights at night. Solar post cap lights are the most demanded lighting fixtures as the most convenient light accessories to adore your garden and posts on a minimal budget.
This blog post exclusively bubbles up the advantages of post cap lights to help you decide on the best lighting solutions for your next project. Keep reading to know more about them.
Advantages of Solar Post Cap Lights
Cost-Effective
Solar post cap lights are one of the most cost-effective lighting solutions. All you need to bear are the fixture charges. Being solar-powered, no electrical wiring is required; hence no wiring-related charges are involved.
Convenient
These lights bring along convenience and efficiency. Without hiring a professional's services, these are ready to install. Once installed, solar cap lights can automatically operate, i.e., turn on at night and off during the day. You simply don't have to rush to the switch to save electricity. Solar post cap lights are the best choice with no or minimal maintenance.
Environment-Friendly
Switching to eco-friendly resources is the need of the hour. Solar cap lights use renewable solar energy. It thus involves no consumption of non-renewable electricity resources generated by fossil fuels.
Solar cap lights are a good idea since it reduces carbon footprints and helps protect the environment.
Durable
Solar cap lights are meant for outdoor use and are therefore built with a material of high tensile strength. Good to bear harsh environmental conditions, the solar cap lights can go a long way. So don't worry about them getting fragile because they are all set to gracefully afford the weather's harshness.
Easy Installation
Contrary to solar cap lights, other lighting solutions require technicians and specialized hardware for proper installation. These lights come with mounting hardware. You don't need much to install them. You only require a flat surface and a sun-oriented location for the solar panel.
Follow the instructions and get it done within no time.
How to Choose Solar Post Cap Lights?
Being exponentially advantageous, solar post cap lights become the best investment if rightly chosen. You must consider a few important points when shopping for these lights. These include;
Size: before sealing the deal, ensure perfect measurement of the post, fence, or deck reiling that needs the light.
Brightness: Choose the lights relevant to the area that is supposed to be lighted.
Battery Life: never compromise on the battery's output. Select the lights with a stout battery to assist with efficient lighting for extended periods.
Material, durability, installation, warranty, price, and styles are other important factors you must consider when choosing solar post cap lights.
Conclusion
Solar post cap lights are great! These are solar-powered lights fit for placement on posts and other elevated points. They offer many advantages. These include cost-effectiveness, durability, easy installation, safety, no maintenance, and eco-friendly.
This blog post also covers the important considerations that you must make before purchasing lights for your posts to ace the lighting game.