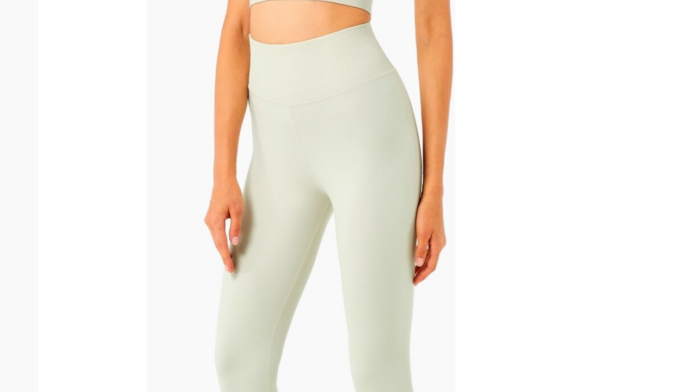 Fitop can assist you in realizing your dream of starting your own-brand garment company, from personalization to logo embossing and even including current trends. Fitop is always improving its leggings and growing its selection to include high-waisted, patterned, and nude-feel leggings. The needs of fitness enthusiasts are taken into consideration when designing each product.
When selecting a supplier for leggings, you should take into account several criteria, including quality, turnaround time, and price. Consider consulting a custom legging manufacturer like Fitop if you want some customization possibilities. Fitop is one of the top producers of wholesale leggings that considers the specific requirements of each of our customers. You have the choice of choosing a private label, a white label, or particular textiles.
Types of Legging That Fitop Offers for Wholesale
The different types of leggings offered by Fitop are listed below:
Basic Legging
Simple leggings are a necessary item of apparel that go with a variety of tops and outfits and are functional, comfy, and adaptable. Basic leggings have an elastic waistband that fits snugly around the waist. For added support and to prevent sliding down when moving, some leggings have a wide waistband.
Full-length, ankle-length, and capri-length basic leggings are among the lengths that are offered. Ankle-length leggings stop just above the ankle, capri-length leggings reach mid-calf and full-length leggings stretch to the ankles.
Yoga Legging
Typically, nylon, polyester, and spandex (or elastane) are used in the production of yoga leggings. This combination provides exceptional durability, moisture-wicking abilities, and stretch. For additional comfort and sustainability, some yoga leggings use fabrics like bamboo or organic cotton.
A wide, high-rise waistband is a common feature of yoga leggings. The high waistband offers additional support and coverage, ensuring that the leggings stay in place throughout a variety of yoga postures, including inversions and bends.
Athletic Legging
The materials used to make athletic leggings are cutting-edge, premium materials like nylon and spandex blends. The body stays dry by wicking sweat away from the skin because of the great stretch, resilience, and moisture-wicking qualities of these textiles. Compression technology is frequently used in athletic leggings to provide focused assistance for important muscle areas. This compression promotes muscle repair, lessens muscle fatigue, and improves all-around workout endurance.
Compression Legging
Specialized athletic clothing called compression leggings is made to apply focused pressure to particular muscle regions. Since these leggings have so many advantages, athletes and fitness buffs love them. Gradual compression is used in the design of compression leggings, which means that the pressure is highest at the extremities and gradually diminishes as it rises upward. This design encourages blood flow, which helps muscles recover more quickly and lessens discomfort.
Printed Legging
For both casual attire and active lifestyles, printed leggings have emerged as a popular and stylish option. People may show their particular style while still enjoying the comfort and adaptability of leggings, thanks to the broad variety of styles, patterns, and colors they have to choose from.
Any ensemble is improved with the addition of printed leggings. They work well with dresses, big shirts, solid-colored tops, and other fashionable pieces to create striking ensembles. When it comes to making a strong fashion statement, printed leggings are ideal.
Mesh Legging
Mesh leggings are a stylish and practical option for people looking for activewear that blends chic designs with improved ventilation. Mesh panels or inserts that are inserted in specific locations define mesh leggings. These panels are usually found on the thighs, calves, or areas just behind the knees.
Mesh offers breathability, enabling air to flow and keeping the wearer cool and cozy while exercising. The materials used to make mesh leggings are breathable and frequently include components that wick away sweat, such as spandex and polyester.
Summary
By providing a wide selection of leggings, you may satisfy a variety of consumer needs and activities, broadening your appeal to a wider market. Maintaining quality across various styles of leggings in your wholesale line requires tight collaboration with your suppliers. Leggings from Fitop are more than just clothing for working out; they combine performance, style, and comfort, enabling yogis to concentrate on their practice without interruptions.